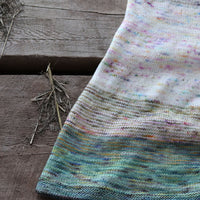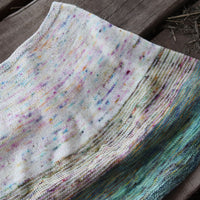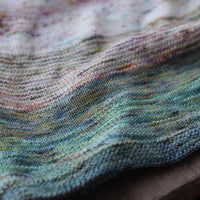 HELICAL FADE CAPELET BY:LISA DOHERTY
Description
HELICAL FADE CAPELET BY:LISA DOHERTY
Pencil Box Collection 3.0
Use the simple helical knitting technique to fade your pencil box pencil yarn into a glorious wash of colours! The one row stripes used throughout this luxurious capelet will blend some colours together and allow others to show more contrast.
Gauge.
Knit an in-the-round gauge swatch. 25 stitches to 4 inches unblocked, 24 stitches to 4 inches blocked.
Finished Measurements.
One size. 22" neck circumference, 50" lower circumference. 17" length. Capelet can be made smaller by skipping the last round of increases, resulting in a 46" lower circumference.
MATERIALS
One Koigu pencil box. The sample capelet weighs 180 grams, and there are 250g in the kit, so you can choose a few skeins to use in lesser amounts.
24" circular needle size 3 for neck edging, 24" circular needle size 4 for the rest of the capelet. You may want to switch to a 32" circular needle size 4 on the second increase round to accommodate the large number of stitches.