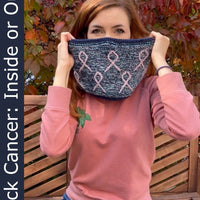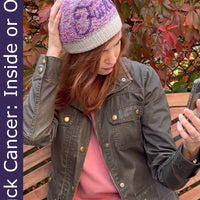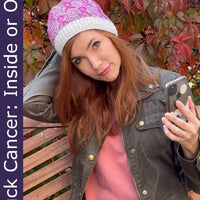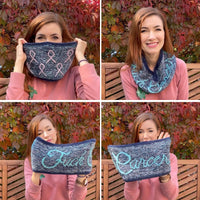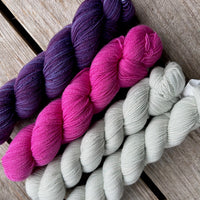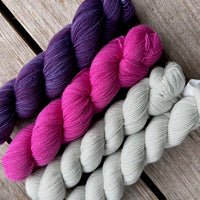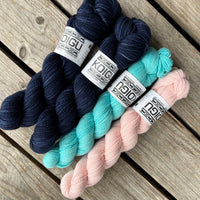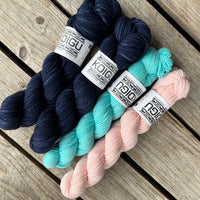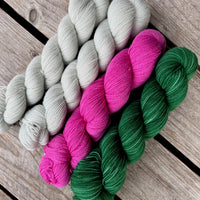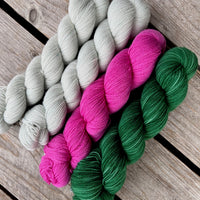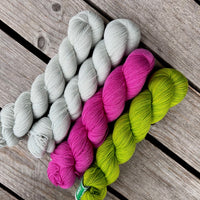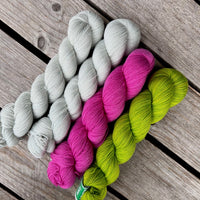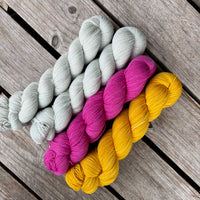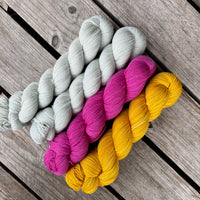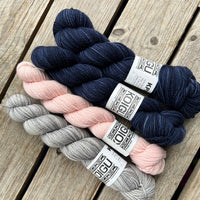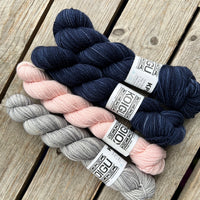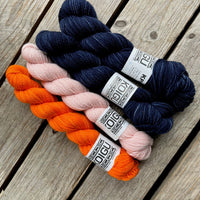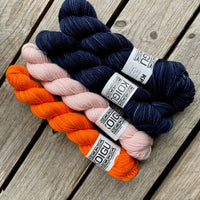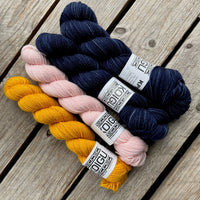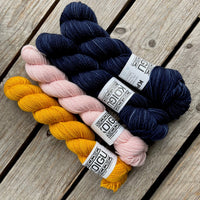 Inside and out Yarn Pack by Mary W Martin
Description
 Inside and out
by Mary W Martin
purchase here >>>PATTERN
This hat was designed for a friend who had breast cancer. Throughout her treatment, she outwardly remained positive and brave. In her thoughts, she was angry and scared. She was determined to "Fuck Cancer!" and she did!
The hat/cowl are fully reversible with cancer ribbons on one side and "Fuck Cancer!" written on the other side. The pink ribbons can be changed to another colour to say "Fuck Cancer" to any type of cancer.
Cowl: (Blue) Koigu Premium Merino; 1030 – 2 skeins; 1141 - 1 skein; 2131 - 1 skein.
Hat: (Pink) Koigu Lace; L3011 - 2 skeins; L1175 – 1 skein; L3005 –1 skein.
We have provide option in Lace and fingering
KPM - 
100% Merino Wool

170 yds/50g

3.0mm Needles (US 3)

28 stitches by 36 stitches over 10cm by 10cm
LACE -
100% merino

50g/292yds/267m

2 - 2.25 mm (0-1 US)

32 - 46 sts over 10cm/ 4"
Pattern Pricing: Mary Martin will donate All the proceeds from the sale of this pattern will forever be donated to the Canadian Cancer Society. The listed price is $10USD.
Yarn Pricing: Koigu will donate $15 of each yarn pack sold to the Canadian Cancer Society
NOTE: This is a very challenging pattern. This is NOT representative of most of Mary's patterns and it is NOT a good project for learning Fission Knitting. If you've made one of Mary's designs before, the skills you have learnt will be helpful but there is a lot going on with this pattern and it requires a lot of attention. Everything you need to know is explained in full detail. If you're looking for a really engaging project to build skills and keep you focused, this is it! And imagine the bragging rights at Knit Night!