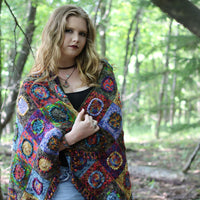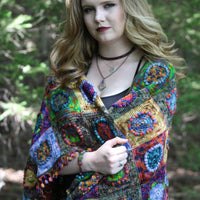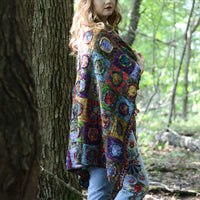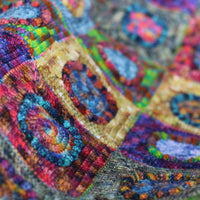 Boheme Blanket (crochet) KIT - KPPPM & KPM
Description
Boheme
by Marji LaFreniere
Finished measurements: 55 1/2"(141cm) length 38"( 97cm)wide
Materials: Koigu KPPPM: P710(A), P608(C) – 3 sks each; P426 (B), P480 (D), P 872 (E), P344 (F), P632 (G) – 2 sks each; P321(G), P121 (H), P230 (J), P804(K), P158 (L) – 1 sk each; KPM 4005 – 1 sk for edging. Size F/3.75 crochet hook.
Gauge: Each square measures approximately 4 ½"/11.5 cm, before blocking.
Notes: Each square has a round center section, bordered by a contrasting row of "bobbly" stitches, then squared off and framed with a third color. You will need to make 88 squares for this throw.
kit - includes Koigu Magazine 9